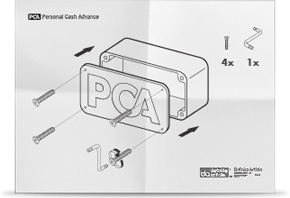 Use These Strategies to Get Money Before Your Next Paycheck
When you need money before your next paycheck, few solutions offer the simplicity and efficiency of a payday loan. We have established a network of reputable lenders that are committed to helping consumers take control of their financial situations. These companies offer convenient lending services that meet the needs of consumers everywhere. If you have a need for a short-term financial solution, chances are we can pair you with a lender that can help. In order to help you get the money you require quickly, we have created this guide that explains the borrowing process from the initial application to repayment strategies.
Step 1: Select a Product and Apply Using Our Simple Form
You have decided to take out a short-term advance, so where do you begin? We understand your time is precious; therefore we set out to simplify the application process. All you have to do is select the amount you want to borrow and supply us with some basic information. We will use this information to pair you with a company in our network that is best suited to meet your specific needs. You won't find a more personalized approach to borrowing anywhere! Furthermore, the entire process can be completed online in the vast majority of cases, so you'll never have to leave your home in order to get access to cash. You'll never have to use personal items or property as collateral since your paycheck is used to validate the advance. When you are ready to begin, simply begin the form located on this site. Make sure you enter the information accurately so there will be no delays in approval.
Step 2: Get Approved and Receive Your Funds
Once you have submitted the application, the hardest part (which is actually very easy) is over. What happens at this stage may vary among providers, but most companies will offer you a borrowing decision within hours. In the vast majority of cases, there is no faxing of documents required. You will receive an electronic consumer loan agreement containing the terms and conditions of the service. It is crucial that you review this contract carefully, as many consumers are anxious to sign it and get the cash they requested. The amount you are approved for, along with the fee(s) will be presented in a clear, easy-to-read manner so there will be no surprises down the road.
It is important to remember that there is no obligation to go through with the service until you have signed and submitted the agreement. If you have any questions or concerns about the conditions or approved balance, now is the time to contact the company directly. They can answer questions or address your concerns so you can feel comfortable throughout the entire process. When you are ready, complete the agreement and submit it. It is important to note that we are not a lending company or the issuer of cash advances, so any inquires must be directed to your specific lender.
You are now ready to receive the funds, which are directly deposited into the checking or savings account you specified when applying. This is far more safe and convenient than carrying large sums of cash or even a check. It could take anywhere from several hours to a couple days to receive the funds, so be sure to monitor your account. Once you have received the money, it is yours to do with as you wish!
Step 3: Repay the Lender
When it comes time to repay the amount you requested plus any applicable fee, you don't have to do anything! The balance will be debited from the same account you specified when applying. Simply ensure you have sufficient funds in the account by this date to avoid any unnecessary overdraft fees or charges. Some borrowers find they require more time to repay what they owe for whatever reason. If you fall into this category, it is important to contact the provider as soon as possible. Some companies offer extensions or will roll your balance into another loan. Doing so will incur a larger fee, so carefully consider this option. If you simply don't have the money for repayment, it may be wise to take advantage of an extension or rollover if possible. Keep in mind you will likely be unable to take out another short-term advance until you have repaid the initial one, so it is prudent to pay off these debts as quickly as possible. Once you have done so, we encourage you to use our free matching service to get funds quickly whenever the need arises.