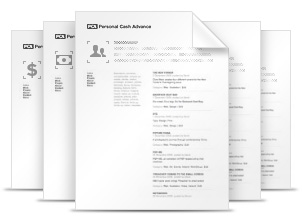 How to Differentiate Between Loans
We have made it easy to connect with reputable lenders that specialize in various short-term financial solutions so you can take control of your budget and avoid fiscal headaches. In order to figure out which product will work best for you, we have established this helpful guide to make the decision easier than ever! Consider the different aspects of each service including the term duration, associated fees and individual requirements in order to qualify. If you have further questions about any of the products, we encourage you to contact us or speak with the lender you are paired with.
Loan Types: An Overview
Payday Loans
Term
2-4 Weeks
Cost
High
Credit Types Accepted
All
Secured/Unsecured
Unsecured
Title Loans
Term
Variable
Cost
Medium
Credit Types Accepted
All
Secured/Unsecured
Secured
Cash Advances
Term
Variable
Cost
High
Credit Types Accepted
Good - Excellent
Secured/Unsecured
Unsecured
Personal Loans
Term
6 months - 1 year
Cost
Low and High
Credit Types Accepted
Good - Excellent
Secured/Unsecured
Both
The Length of the Loan
When you read the consumer loan agreement, it is important to keep in mind the term of the agreement. The term refers to the amount of time you have to repay what you owe before the loan becomes delinquent. It is vital that you avoid this because it will have serious repercussions on your future borrowing potential. Unsecured borrowing terms lengths are usually two weeks or less, since they are based on your pay or benefit disbursement cycle. This is what separates unsecured lending services from their traditional counterparts that have lower interest rates and longer repayment terms but come with a more difficult qualification process.
How Much it Will Cost You
When you are in the middle of applying for an advance and you are anxious to get money quickly, it can be easy to overlook crucial details about the cost of the service. It is important to remember that short-term borrowing services typically come with higher interest rates than secured lending services for various reasons. These arrangements come with some level of risk to the lender, so they make sure to price them accordingly.
Your Creditworthiness
Since every consumer represents a varying level of risk to a provider, there are measures put in place to ensure the consumer has an accurate understanding of the terms and conditions of the service. Short-term loan amounts are typically capped at $1,500 to protect the lender and allow them to continue offering their services at the lowest cost possible. Secured lenders such as banks, credit unions or mortgage companies initiate credit checks to ensure the applicants show a certain level of creditworthiness before their request is approved and the funds are dispersed. Thankfully, your credit situation will not likely affect you when it comes to a short-term financial solution as your paycheck is used as collateral.
The Type of Loan You Are Considering
If you are looking to borrow more than $1,500 and your credit score is good, you may want to consider a secured borrowing option instead. The interest rates are typically lower and you may be eligible for a longer repayment term. If you find yourself in need of a secured lending service, it may be prudent to visit a local bank or credit union to examine your options. Or, you can use our site to request a personal loan from a trusted online lender.